Getting Started Is Easy!
We prevent delays and complications by eliminating the risk of damaging valuable property. Protect X Surface Protection is professionally installed and maintained by our team, then removed and recycled when your project is completed.
2

Get Professional Installation
Surface Protection, Anywhere
Get on with the important stuff without any stress by getting Protect X installed on all your surface areas! Our innovative product was designed to protect against damage to interiors and exteriors during building and remodeling. You won't have to worry about contractors dropping their tools on your floor, the apprentice scuffing the furniture, breaking glass, paint dust breezing through the open doors or foot traffic throughout your work area. We've got you covered!
Trusted by Construction Professionals!
Trusted By These Partners
Features

Professionally Installed Next Day

Drop proof to 75#

Recycled by 4Ocean

Structural Free Standing Product & Tunnel

Dust Containment

Odor Containment
Protect X Tunnel Containment System
Frequently Answered Questions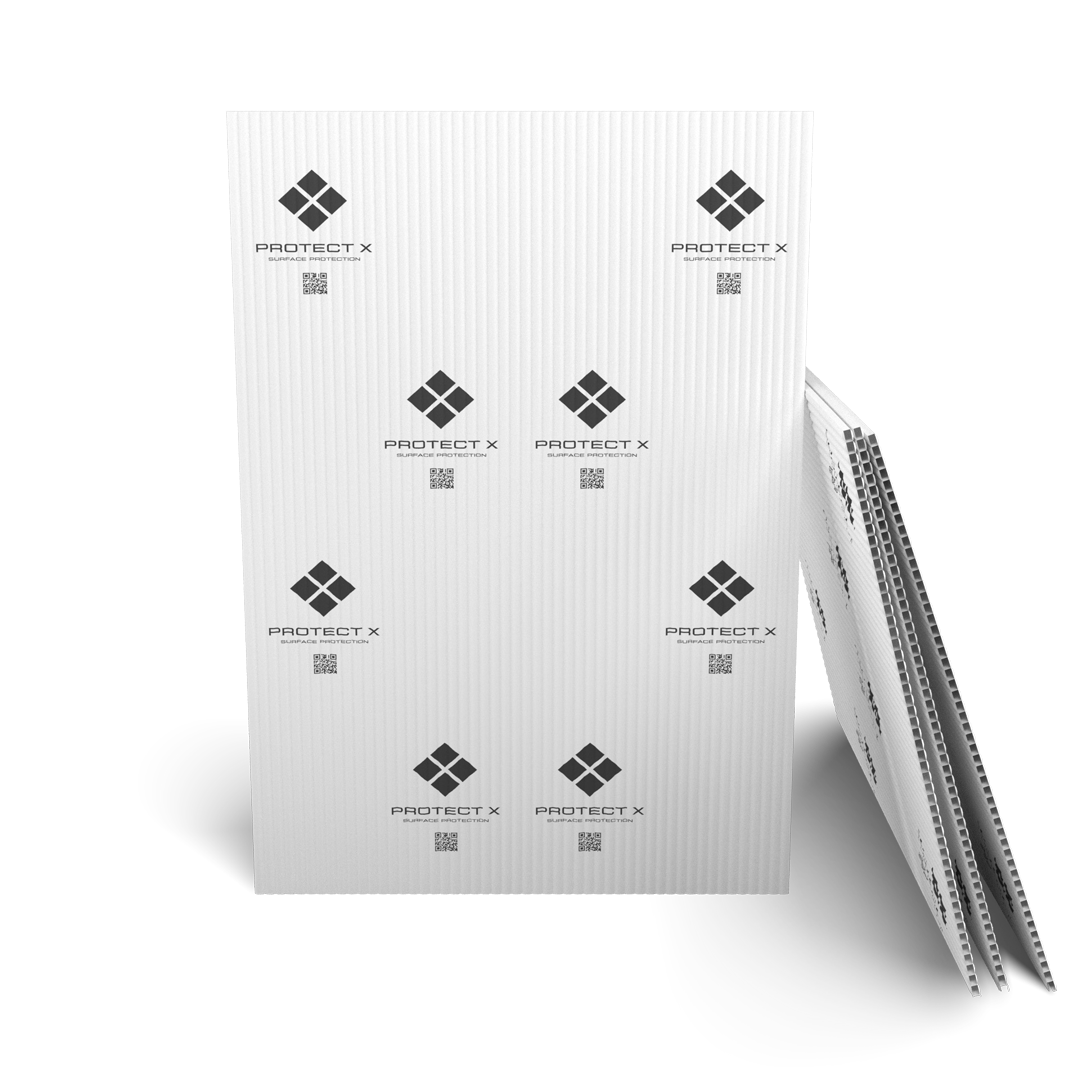 What is Surface Protection?

Protection refers to the use of "X Sheets" designed to temporarily shield and protect surfaces during construction or renovation projects. Surface Protection prevent damage to floors, countertops, and walls and prevents any accidental damage that may occur.
What surfaces should be protect during renovation?

Hardwood Floors
Marble Floors
Carpet
Countertops
Stairs
Railings
Doors
Walls
Finished Surfaces
Dust Containment

All areas where contractors will be working.
How does it work?

The "X" sheet lays on top of any surface. The sheet protects the surface from possible damage caused by mishaps or accidents. eg. dropped tools, dirty shoes, or spilled paint. When laid onto the surface, it provides a place to put tools and supplies without affecting any sensitive surrounding areas. The sheet can be installed flat or against any perpendicular surface. 
What areas do you service? 

We predominately service the South Florida region. For inquiries outside this region, please contact us directly.

Currently servicing: Fort Lauderdale, Miami and Palm Beach

33004 (Dania Beach)
33009 (Hallandale Beach)
33010 (Hialeah)
33012 (Hialeah)
33013 (Hialeah)
33014 (Hialeah)
33015 (Country Club)
33016 (Hialeah)
33018 (Hialeah)
33019 (Hollywood)
33020 (Hollywood)
33021 (Hollywood)
33023 (Miramar)
33024 (Hollywood)
33025 (Miramar)
33026 (Pembroke Pines)
33027 (Miramar)
33028 (Pembroke Pines)
33029 (Pembroke Pines)
33030 (Homestead)
33031 (Homestead)
33032 (Princeton)
33033 (Leisure City)
33034 (Florida City)
33035 (Homestead)
33039 (Homestead)
33054 (Opa-locka)
33055 (Miami Gardens)
33056 (Miami Gardens)
33060 (Pompano Beach)
33062 (Pompano Beach)
33063 (Margate)
33064 (Pompano Beach)
33065 (Coral Springs)
33066 (Coconut Creek)
33067 (Coral Springs)
33068 (North Lauderdale)
33069 (Pompano Beach)
33071 (Coral Springs)
33073 (Coconut Creek)
33076 (Coral Springs)
33101 (Miami)
33109 (Miami Beach)
33122 (Miami)
33125 (Miami)
33126 (Miami)
33127 (Miami)
33128 (Miami)
33129 (Miami)
33130 (Miami)
33131 (Miami)
33132 (Miami)
33133 (Miami)
33134 (Coral Gables)
33135 (Miami)
33136 (Miami)
33137 (Miami)
33138 (Miami)
33139 (Miami Beach)
33140 (Miami Beach)
33141 (Miami Beach)
33142 (Miami)
33143 (Glenvar Heights)
33144 (Miami)
33145 (Miami)
33146 (Coral Gables)
33147 (West Little River)
33149 (Key Biscayne)
33150 (Miami)
33154 (Surfside)
33155 (Coral Terrace)
33156 (Pinecrest)
33157 (Palmetto Bay)
33158 (Palmetto Bay)
33160 (Sunny Isles Beach)
33161 (North Miami)
33162 (North Miami Beach)
33165 (University Park)
33166 (Miami Springs)
33167 (Westview)
33168 (North Miami)
33169 (Miami Gardens)
33170 (Goulds)
33172 (Fountainebleau)
33173 (Kendall)
33174 (Sweetwater)
33175 (Tamiami)
33176 (Kendall)
33177 (South Miami Heights)
33178 (Doral)
33179 (Ives Estates)
33180 (Aventura)
33181 (North Miami)
33182 (Tamiami)
33183 (Kendale Lakes)
33184 (Tamiami)
33185 (Miami)
33186 (The Crossings)
33187 (Richmond West)
33189 (Cutler Bay)
33190 (Cutler Bay)
33193 (Kendall West)
33194 (Miami)
33196 (The Hammocks)
33301 (Fort Lauderdale)
33304 (Fort Lauderdale)
33305 (Fort Lauderdale)
33306 (Fort Lauderdale)
33308 (Fort Lauderdale)
33309 (Oakland Park)
33311 (Fort Lauderdale)
33312 (Fort Lauderdale)
33313 (Lauderhill)
33314 (Davie)
33315 (Fort Lauderdale)
33316 (Fort Lauderdale)
33317 (Plantation)
33319 (Lauderhill)
33321 (Tamarac)
33322 (Sunrise)
33323 (Sunrise)
33324 (Plantation)
33325 (Davie)
33326 (Weston)
33327 (Weston)
33328 (Davie)
33330 (Cooper City)
33331 (Weston)
33332 (Weston)
33334 (Oakland Park)
33351 (Sunrise)
33401 (West Palm Beach)
33403 (Lake Park)
33404 (Riviera Beach)
33405 (West Palm Beach)
33406 (West Palm Beach)
33407 (West Palm Beach)
33408 (North Palm Beach)
33409 (West Palm Beach)
33410 (Palm Beach Gardens)
33411 (Royal Palm Beach)
33412 (The Acreage)
33413 (Greenacres)
33414 (Wellington)
33415 (West Palm Beach)
33417 (West Palm Beach)
33418 (Palm Beach Gardens)
33426 (Boynton Beach)
33428 (Boca Raton)
33430 (Belle Glade)
33431 (Boca Raton)
33432 (Boca Raton)
33433 (Boca Raton)
33434 (Boca Raton)
33435 (Boynton Beach)
33436 (Boynton Beach)
33437 (Boynton Beach)
33438 (Canal Point)
33441 (Deerfield Beach)
33442 (Deerfield Beach)
33444 (Delray Beach)
33445 (Delray Beach)
33446 (Delray Beach)
33449 (Lake Worth)
33458 (Jupiter)
33460 (Lake Worth)
33461 (Lake Worth)
33462 (Lantana)
33463 (Lake Worth)
33467 (Lake Worth)
33469 (Jupiter)
33470 (The Acreage)
33472 (Boynton Beach)
33473 (Boynton Beach)
33476 (Pahokee)
33477 (Jupiter)
33478 (Jupiter Farms)
33480 (Palm Beach)
33483 (Delray Beach)
33484 (Delray Beach)
33486 (Boca Raton)
33487 (Boca Raton)
33493 (South Bay)
33496 (Boca Raton)
33498 (Boca Raton)
Do you install and remove the product? 

Yes we fully custom install our protection product and are with you through the entire renovation process. After completing your project we will removed and recycled with 4ocean when your project is complete.
How do I know which cover and protect solution is right for me?

To help you we have developed a "Request A Quote" form which will ask all relevant questions for us to determine what protection is needed. You will then receive a custom protection plan from us with a quote of your project
Can my crew install the product themselves?

Yes, we offer our protection products for purchase under the "Shop Now" tab for DIY projects! You can also click "Request a Quote" on the top right of our website to fill out a form and our team will estimate the amount of materials you need. From there you can compare the two options to decide whats best for your project.